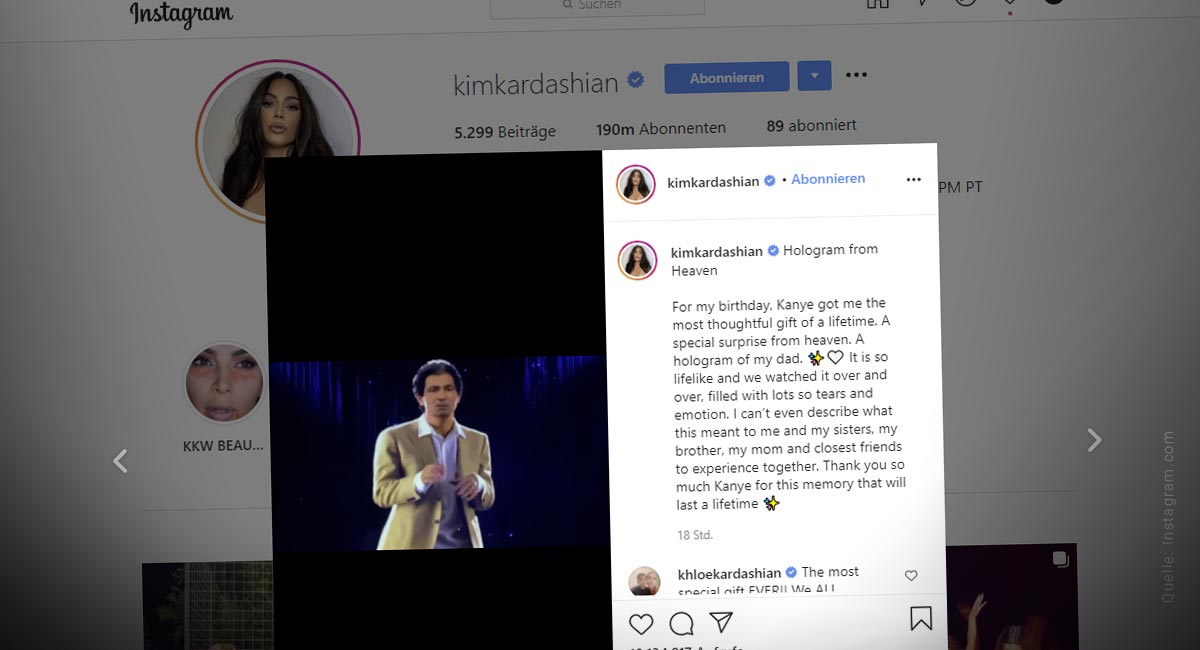 Avatar digital: Kim Kardashian se reúne con su difunto padre – Tendencias
Avatar digital – Increíble pero cierto, el futuro está cada vez más cerca. En la fiesta de cumpleaños de Kim Kardashian West (40), su marido regaló a Kanye West un holograma virtual de su difunto padre. Ya hemos informado sobre los influenciadores digitales. El mundo virtual se acerca cada vez más al mundo real. El vídeo es realmente impresionante porque no es «sólo» una simple animación.
Avatar digital: Kanye West sorprende a su mujer
Es una historia increíble, teniendo en cuenta que el mundo está en constante cambio. Especialmente en 2020, el mundo se ha vuelto más digital que nunca. Las oficinas en casa, las reuniones por vídeo y muchas otras nuevas estructuras digitales están cambiando nuestra vida cotidiana. Pronto, las personas virtuales también desempeñarán un papel cada vez más importante.
Mira este post en Instagram
¿Kim Kardashian? Antecedentes: estrella de telerrealidad e Instagram
Kim Kardashian es una estrella de la realidad. Hoy es un modelo para millones de mujeres y niñas. Mujer de carrera, esposa, madre de cuatro hijos, modelo mediática, influenciadora de tendencias de moda. Ha demostrado que con trabajo duro y perseverancia se puede llegar a la cima, el sueño americano. Tuvo su gran oportunidad con su familia gracias a la serie de televisión «Keeping Up with the Kardashians», guiada por la madre Kris Jenner. Kim, Kris… todas tienen éxito, incluidas sus hermanas, como Kendall Jenner. Con una enorme (y lucrativa) presencia digital en las redes sociales, sus propias marcas y negocios, y los reality shows que la han llevado al éxito, Kim Kardashian vale más de 370 millones de dólares, según Forbes.
Valor de la marca de 370 millones de dólares
Sin embargo, no se conforma con dormirse en los laureles. De hecho, Kardashian incluso ha añadido a su currículum una estudiante de derecho y una abogada social. Hoy, en su 40º cumpleaños, ha recibido este regalo tan especial.
Fin de «Keeping Up with the Kardashians»
En 2020, la familia pondrá fin a la serie Keeping Up with the Kardashians
Imágenes originales de Rob Kardashian (padre)
Son grabaciones antiguas y originales de su padre.
¿Cuánto cuesta un avatar digital de este tipo?
El coste de producción será seguramente de unos 100.000 dólares.
¡Tip! Informe Social Media 2023
El desarrollo de las redes sociales es cada vez más rápido. Hoy en día, no sólo Facebook es relevante, los jugadores están en Twitch, los adolescentes se divierten cantando y bailando en TikTok, los políticos adoran Twitter y mamá y papá están en Facebook. ¿Hacia dónde se dirige el mundo del marketing social? El tema de esta semana en nuestro Podcast de Marketing en Redes Sociales:
https://socialmediaone.es/wp-content/uploads/2020/10/kim-kardashian-hologramm-vater-verstorben-instagram-video-digitaler-avatar-zukunft-trend.jpg
650
1200
S_kinski
/wp-content/uploads/2023/01/social-media-one-logo-tiktok-instagram-youtube-facebook-marketing-1.svg
S_kinski
2020-10-30 16:00:44
2021-07-17 18:20:33
Avatar digital: Kim Kardashian se reúne con su difunto padre – Tendencias